(ED = Embarkation/Debarkation)
I have seen this question come up several times on many social media pages. Please fear not!! I am here to show you step by step how to fill out your ED Card for entering Aruba. The steps are different if you are a resident than if you are a non-resident (tourist). I will explain in detail with pictures to make this 'required' step a breeze!
EVERYONE HAS TO FILL THIS OUT (or have it done for them), ALL HUMANS, ALL AGES, ONE PER PERSON.
The first thing you need to know is this process changes frequently. I will do my very best to keep up to date. Don't hesitate to comment if there is a change I have overlooked.
As of March 19, 2022, you do not need to upload a negative Covid test or vaccine certificate to enter Aruba. And as of June 12, 2022, you do not need to be tested or show proof of vaccine to re-enter the US. And as of July 8, 2022, you no longer need to purchase the formerly mandatory COVID insurance.
ED CARD NON-RESIDENTS:
First make sure you are within 7 days of your arrival flight, then go to

www.edcardaruba.aw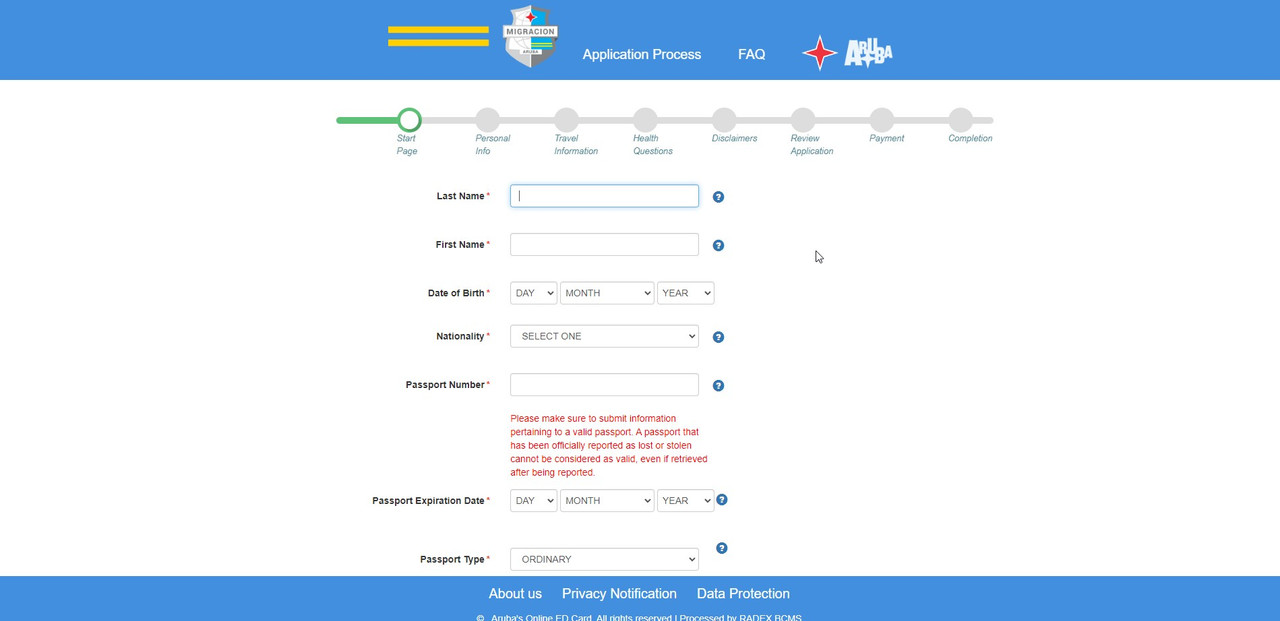 Here you will choose non-resident.
Here you will enter your arrival date into Aruba.
Now enter your personal information.
Now enter your home address.
Now your flight information.
*This is the flight number that lands in Aruba.
Here you will put in your visiting information. Now at this point make a note of the place you are staying. If it is a chain hotel it won't be difficult to remember, but if you are at an Airbnb you will want to have the address written on a piece of paper (even just on the back of the papers you are carrying), or easily accessible in your phone. The agent may ask you where you are staying and if not at 'chain hotel' they will also want an address.
At this point when you hit the next button the screen sometimes looks like it goes back to the start. Just give it a few more seconds and it will move on to the next screen. I have panicked when I saw that in the past and ended up having to start over!
I am not positive these following questions are still being asked since there is no testing or insurance requirements. I will update this section the next time I fly to Aruba, in a few weeks.
Now you will review your application.
At this point you should receive your Boarding Qualifier link and green check mark!!
Another very common question that often comes up is: Do I need travel health insurance coverage while on Aruba?
While no policies are required, I strongly recommend a travel policy for serious injury or possible evacuation. Although, your health policy at home may reimburse you for care outside of the US, you will have to pay before you leave here so an extra policy is completely worth it. There are a few companies to choose from, but we like to use Geo Blue Travel Insurance
And now you have received the infamous "Green Check"!!
Remember to print a copy of this. Somewhere on here write the address (or hotel name) you will be staying at while in Aruba.
At this point you are approved to board the flight. Keep those printed copies handy as they are checked by the airline agents when you depart and once you arrive in Aruba.
Also, if you would like to drop your email on my contact page, I would be happy to send you a free copy of my list of 'Useful tips & hints' for traveling to Aruba.
Don't worry, I do not sell my email list to anyone.
BON BINI!! WELCOME TO ARUBA!!